Megan Bartlett – Principal Investigator
Email: mkbartlett at ucdavis.edu
Phone: (530) 752-2048
Office: 2140 RMI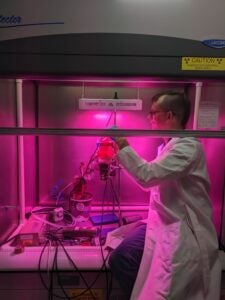 Ryan Stanfield – Postdoctoral Researcher
Email: rcstanfield at ucdavis.edu
My current research focus is on sugar transport through the phloem vascular tissue in grapevine and how the phloem is impacted by drought. This process of delivering sugar from production site (leaf) to its destination (ex: grapes) is believed to be impacted by factors both internal (ex: tissue structure and protein function) and external to the phloem (ex: water availability). I use mathematical modeling to make predictions on how phloem transport is impacted by these parameters and verify using radio-isotope tracing as well as molecular biology techniques to determine how phloem loading proteins are impacted by water stress. A real-world analogy to my work is that the power plant (photosynthesis in the leaf) needs to deliver its energy via transmission lines (phloem) to power the city (growth of flowers, fruits, roots, etc.).
Ross Deans – Postdoctoral Researcher
Email: rdeans at ucdavis.edu
Ross' research combines mathematical modelling with measurements of plant photosynthesis, water loss and drought tolerance traits, to elucidate how these plant traits optimally vary under both current and future climates to maximise the growth potential of plants. His current projects include using optimisation principles to explain seasonal adjustment in the key drought tolerance trait turgor loss point, as well as characterising the drivers of photosynthetic and stomatal control in response to combined temperature and water stress in grapevines.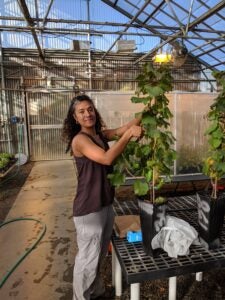 Gabriela Sinclair – PhD Student
Email: gcsinclair at ucdavis.edu
Gabriela Sinclair is an entering Ph.D. student in the Horticulture and Agronomy department. Her research interests include investigating the impact of drought and grapevine trunk disease on water-use efficiency in Vitis species.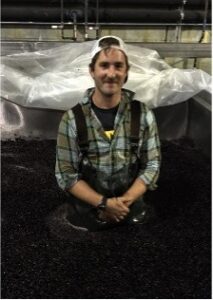 Joshua Hnizdor – Master's student
Email: jfhnizdor at ucdavis.edu
Josh is a second-year Master's student in Viticulture and Enology at UC Davis. He graduated from the University of Vermont with a B.S. in Nutrition and Food Science in 2015 and has since worked in production for wineries such as E&J Gallo, Saint Clair Family Estate, Williams Selyem Winery, and Martin Ray Winery. His work addresses sustainability by investigating grape rootstock performance in a dry-farmed vineyard block. His research is also testing a minirhizotron (root camera) method to better observe root growth responses under drought conditions. When not in the lab or field, Josh enjoys cycling northern California's picturesque roads, exploring local hikes, and continuously refining his croissant recipe.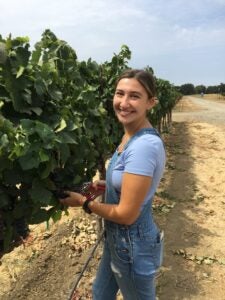 Gianna Disco – Undergraduate Researcher
Email: grdisco at ucdavis.edu
Gianna is an undergraduate research assistant in the Bartlett lab. Her research interests include hands-on viticultural practices that improve breeding efforts, greenhouse propagation, and disease management. She hopes to gain vineyard experience during a New Zealand/Australia harvest and continue travelling as an aspiring viticulturist.
Lab Alumns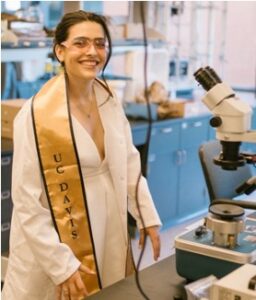 Gabriela Fontanesi – Undergraduate Researcher
Interview with Gabriela on labor activism in the wine industry.
Intern at Matthiasson Winery.
Spencer Jones – Master's student.
Exit seminar on rootstock impacts on vine potassium uptake. Winemaker at Iron Hub.